I'm going to have one of
those
weekends.
You know, way too busy but filled with joy.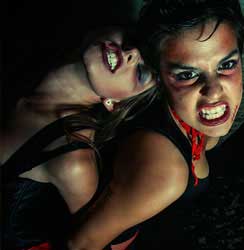 It all begins tonight, when I see a triple-feature of
Gorilla Tango Burlesque
, finishing up with my directing baby
Boobs of the Dead
!
Tomorrow, I start off with paper tech for my next directing project:
The Snow Queen
! We've adopted a 1980s fantasy movie aesthetic--think
Labyrinth
,
Neverending Story
,
Return to Oz
... In other words, you should be THE MOST EXCITED!
Then I'm headed to a Steampunk Costume and Fashion Show! If you find yourself looking for something to fill the time between sleeping in and partying the night away at your various Halloween parties, head on out to Alwin Anthony Salon in Grayslake for fancy hair, makeup, clothes, and me as Tippi Hedren from
The Birds
!!
I hope to see you at one of my many events <3
HAPPY FRIDAY NERDS!